Corporate Identity Information
Let me introduce CI of SDAG.

SDAG Construction builds a better tomorrow with human respect and trust in mind.
Four corporate philosophies of SDAG Construction
Respect
for person
Create value of Buildings for Public Interest

Develop Korea's global future with advanced construction technology

Improving the quality of life and happiness through space

Gain customers trust through steady financing and sincere construction.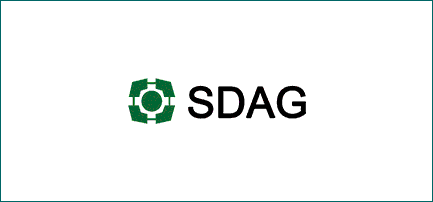 Expressing the will of SDAG Construction which aims to create safe and high-quality space based on the four human-centered corporate philosophies.
Signature
Symbol Color
GREEN

Symbolizes humans coexisting with nature
Pantone 355 C

RGB

R - 0 G - 148 B - 48

CMYK

C - 100 M - 11 Y - 100 K - 2
BLACK

Symbolizes a safe and sound construction company through compliance with principles and sincerity construction
Pantone Process Black C

RGB

R - 0 G - 0 B - 0

CMYK

C - 75 M - 68 Y - 67 K - 90